Four Sail Team is a group of carefully selected real estate professionals working together to make the home buying and home selling experience efficient and effective to help our clients accomplish their real estate goals in a comfortable, fun and relaxed environment.
To learn all of our juicy secrets please read below to find out all the DEETS about our professional group!
Brian Ellwanger
CEO/Team Leader
Certified Negotiation Expert®
Top Ranked Agent 14+ Years
When People Ask Me What I Do For A Living, I Tell Them;
"A young couple just moved into a new home and kept their house payment lower than their rent". That's what I do. I make dreams come true. I'm a real estate consultant.
But What I Really Want To Say Is:
"I help people get from where they are now, to where they want to be by dedicating 100% of my time toward giving them World-Class service...and by providing such extraordinary service that they feel comfortable and gladly introduce me to their friends, family, neighbors and co-workers when they want or need help getting their home sold or buying their dream home".
AND What I Really, Really Want To Say Is...
I binge-watch UFC (Ultimate Fighting Championship) Fight Night. I can walk and balance on a climbing slack line like nobodies biZness. I'm that real estate agent in town with the "long hair" that you may see cruising around on a Long Board. And I'm known in the music industry as "Bubba Stubz".
I'm Brian Ellwanger-
And as you've probably guessed, helping people make their dreams come true (while having serious fun) is kinda my sweet spot.
;)
And when it comes to helping people buy and sell real estate, I'm the real McCoy.
I've got 14+ years of experience as a real estate sales professional, marketing and communication virtuoso-and I have helped literally hundreds of people make their dreams come true.
I have spent over 6 years in residential and commercial development along the front range which eventually moved me into Real Estate sales and Investment properties.
I have been actively licensed in Colorado since 2004. I help both buyers and sellers navigate through the process of buying and selling.
I am a Certified Negotiation Expert®, HUD designated agent and have been a Top Ranked agent for over 11 years.
I'm committed to building life-long relationships one client at a time. And the friendship doesn't end when the transaction closes. I will be your real estate consultant for life. I promise!
Some of the clients I have had the pleasure to help have worked with me and my team on more than one purchase or sale and some have even joined our "9 timers club"!
I was raised in Spearfish, SD and moved to Colorado over 20 years ago because of my love for rock climbing and outdoor adventure. And when I'm not overseeing all the transactional details
(actually my assistant "DEETS" does this) and negotiating agreements in a real estate transaction-you can find me riding my mountain bike at Heil Ranch and surrounding trails, bouldering or rock climbing with friends, out on a date with my lovely wife Shari or at a concert at one of the many venues in the Denver area with my wife and daughter.
___________________________
Shari Ellwanger
COO/Director or Administration
Certified Home Staging Professional
a.k.a. "DEETS" (DEETS stands for details ;)
I have over twenty years collectively in customer service, management, marketing, home staging and sales experience.
I hold a strong management background and attention to details (the DEETS) is something that comes naturally to me and what I love about real estate (all that paperwork and deadlines) brings me such joy!
I bring a level of confidence to all of the transactions and clients that Four Sail Realty interacts and works with because I literally go over paperwork line by line more than once to ensure it is accurate before sending it to a client or other agent. I hate (hate is such a strong word) I mean I really get annoyed when other agents send offers to purchase and the boxes are marked wrong, or not marked as they should be or they miss-spelled clients names etc.
Brian and I have been called "The Dynamic Duo" over the years by many satisfied friends/clients because together we are the BEST in the business…
I was born and raised in Boulder. Attended Fairview High School (Go Knights!) And when I am not preparing paperwork, researching properties for sale and scheduling appointments, updating our real estate websites or overseeing the transactional details (imagine lots and lots of emails and calls to lenders, appraisers, title companies, other agents, inspectors etc…) you can find me playing guitar (OK sort of playing guitar) and singing, hiking with Brian at Rabbit Mountain or running around McIntosh Lake and hanging out with our dog Meja (a.k.a. Har, MeHar, Har Har) or our dogTomo (short for Tomodachi-means good friend in Japanese) or laughing with our hysterical rock star daughter Maddy.
If you've just GOT to know more, read on. (We will pretend you're Barbara Walters, and spill our secrets. ;)
Brian-a.k.a. "Bubba Stubz" in the music industry. Shari-a.k.a. "DEETS" and "Earplug".
Brian-I still ride a skate board (and I'm over 40) and yes I have long hair.
Shari-Born in Colorado but didn't ski until I was the age of 19!
Brian-I love to cook & am damn good at it, but I can't bake worth a lick! (too many rules to follow).
Shari-I love to bake & am damn good at it, but I can't cook worth a lick! (whatever that means) because there are not enough rules to follow.
Brian and Shari-We go through spurts of going "gluten free" or "GF" but every spring when the warm weather returns, we can't help but crave and indulge in a good cold IPA beer. Best to experience it on our front porch with our friends and neighbors while we catch up on life. Colorado is known for its award winning breweries so it's only fair to support them!
Brian and Shari-"SNL" Saturday Night Live-We both have enjoyed laughing and watching SNL since it first aired 40 years ago…we can't imagine life without it, it IS a staple in our household (much like eggs, OJ or toothpaste) is in most homes.
Brian and Shari-

H-a-l-l-o-w-e-e-n

is a BIG deal at our home! Every year each family member secretly creates there costume from scratch and reveals it on Halloween night…years past we have seen everything from Medveds "Dealin Doug", Richard Simmons and Jane Fonda, Lady Gaga (handmade dress out of decks of playing cards), Freddie Mercury (another hand made costume), "Pat" from SNL, and Napoleon Dynamite to name a few.
Brian-In my glory days my Band "Xclude" that I played drums in, once opened for this band called "Green Day" at the Roman Room in South Dakota right before the band got BIG! Really BIG!
Shari-I'm a Smother of a Rock star.
Brian-I have participated (and finished/crossed finish line) in 3 Off-Road Xterra Triathlons, the Longmont Sprint Triathlon (5 times), the Dakota Five-O (fifty mile) single track mountain bike race in Black Hills of South Dakota, Muddy Buddy, My-way or the tri-way sprint triathlon, Rogers River Run 5K (3 times), Boulder Marathon (full 26.2 miles), Boulder Marathon half, and more...
Shari-I have participated (and finished/crossed finish line) in 2 Danskin Women's sprint triathlon (cancer survivor division), Mayors Midnight Sun Full Marathon in Alaska, Rogers River Run 5K (3 times), Longmont Sprint Triathlon (5 times), Eldora Trail Run 10K (2 times), Fat Tire Off Road Tri at Horsetooth Res, Dakota Five-O (50 mile) single track mountain bike race in Black Hills of SD and more…
Brian and Shari-Favorite family traditions; Sushi for Christmas dinner, Lasagna for Thanksgiving. Attending music concerts & meeting celebrities and somehow always figuring out a way to upgrade our seats to include V.I.P. access and box seats (for free). We ALWAYS meet the band members!
Guilty Pleasure;
Brian-Breyers Chocolate Ice Cream with maraschino cherries and shredded coconut on top.
Shari-Anything chocolate (as long as it is the REAL deal), dark chocolate chips are always in stock at our home!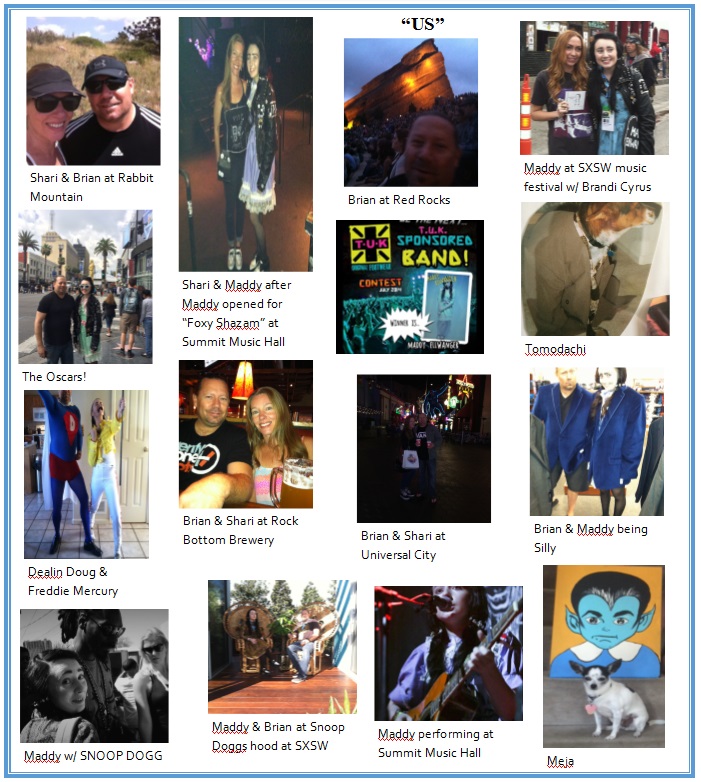 Meet the rest of the TEAM (Click Here)
Four Sail Realty Client-First Philosophy
There are many qualities and skills that go into being an excellent real estate professional - integrity, in-depth community and market knowledge, marketing savvy, effective negotiation skills and a high-quality professional network, all of which are hallmarks of how we work.
That said, in our experience as Boulder County and surrounding area real estate professionals, we have also found that providing the very best service is essentially about putting our clients first. This means keeping ourselves accessible, being a good listener as well as a good communicator, and responding quickly to your needs.
This "client first" philosophy has always been our approach and it requires us to continually improve our skills and ways of doing business. In addition, we have found that the latest technologies are enabling us to do everything we have always done, only much more quickly and efficiently. They've also helped us to extend the range of services we provide to our clients.
So when you decide that you'd like to buy or sell a home in the Boulder County and surrounding areas, please contact me.